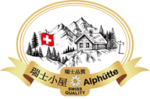 Wiener-Schnitzel
Out of stock
| | |
| --- | --- |
| Origin | Pork from Taiwan |
| Weight | 150g (±10%) |
| Production Process | |
| Storage | 4 Months (Freezer) |
Alphütte's "Wiener-Schnitzel" is a very tender, breaded and pan fried cutlet, made from the center cut of a pork loin.
It is one of the best known specialities of Viennese cuisine, and is one of the national dishes of Austria.
Traditionally the Wiener-Schnitzel is garnished with a slice of lemon and either potato salad, potatoes with parsley and butter, or french fries.
Wiener-Schnitzel with sauce is considered unacceptable in Austrian culture.
In Switzerland we often prepare "Schnitzel-Brot" (Schnitzel-Sandwich), which is a simple but delicious snack.
瑞士小屋 Alphütte is happy to respond to your special requests.
Whether you want to buy a product as a whole piece or cut according to your specifications - no problem!
We are also happy to adapt the weight and number per pack to your personal preferences.
Do you want to create your own product? Let us know and we will be happy to work according to your recipe.