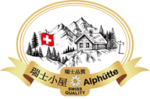 Alphütte's Cheese-Fondue
Cheese will be handled as an individual shipment, since we do not recommend to store cheese below 4°C.
Out of stock
| | |
| --- | --- |
| Weight | x00g (± 5%) |
| Storage | |
Probably the ultimate Swiss traditional dish!
Eating fondue isn't just a treat for the taste buds, it's also a social affair.
Sharing food out of the same pan with friends and family creates the magic feeling of "being together".
Following Alphutte's very own recipe, this creamy and tasty Fondue has all what you can expect!
A nicely balanced mix from various Swiss cheeses, a hint of white wine and other carefully selected spices will convince everyone!
Best quality guaranteed! Produced and packed in Switzerland by the last family owned "affineur de fromage" (cheese refiner), there is so much passion and love in this traditional Swiss specialty.
All you need to do, is to follow the cooking guideline, printed on the package, and we guarantee that you will enjoy the very best Fondue you ever had at home.
瑞士小屋 Alphütte is happy to respond to your special requests.
Whether you want to buy a product as a whole piece or cut according to your specifications - no problem!
We are also happy to adapt the weight and number per pack to your personal preferences.
Do you want to create your own product? Let us know and we will be happy to work according to your recipe.